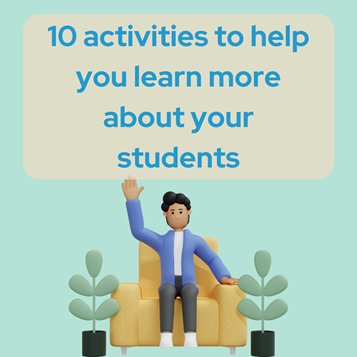 Studies have shown numerous benefits in getting to know your students on a personal level. These benefits include building a rapport, increased student participation, increased student motivation and a positive perception of you as the teacher, and who wouldn't want to be perceived positively by those that they are teaching? 
The benefits of getting to know your students
The benefits from getting to know your students better are many and the great news is it is never too late to start. Often "get to know you" activities are restricted to the beginning of the school year but it can take time for your students to feel comfortable enough to open up. Therefore you may find you get better results and of course a deeper understanding of your students if you sprinkle these activities throughout the school term. 
It may seem superficial to get to know your students but the benefits are far reaching within the classroom affecting student's motivation and even their ability to learn. It has been found that a student's perceived relationship with their teacher is predictive of how well they receive and take in information, those who feel they have a more positive relationship with the course instructor are more engaged and therefore perform better (Frisby and Martin et al 2010). 
More over getting to know your students makes them feel respected and so creates an atmosphere where your students are receptive to learning. For more on the benefits of mutual respect in the classroom you can read our blog post here. 
10 activities to help you get to know your students
1. Start simple - you can ask each student to name one fun fact about themselves
2. Ask your students to bring in 3 items that tell a story about them
3. One on one time - spend time talking to your students one on one each week, you can set goals, talk about how the week has been, this is a chance to get to know more about each of them and what makes them tick.
4. Observation - you can learn a lot about your students by simply observing them - how do they interact with their peers? Who are their friends? Do they like to read? Play games? 
5. Ask your students what they need from you - you will learn a lot about your students from simply listening to their wants and needs. Can you be the teacher they are looking for this year? 
6. Make a magazine collage - ask your students to look through old magazines and cut out images or phrases that represent them. 
7. Play "Three things about me" - ask your students to write down two facts about themselves and one lie, their peers will then have to guess which statement is the lie.
8. The dice game - Hand your students a die and attach a question to each number, ask your students to roll the dice and answer the question attached to that number. For example: 
Which superhero power would you choose and why?

What is your favourite food?

If you were an animal which animal would you be and why?

If you could travel anywhere, where would you go?

What is your favourite TV show right now?

What is your favourite sport?
9.Have your students do a presentation about themselves.
10. Daily check-ins - A great way to get to know your students but also a great way for them to get to know themselves. Ask your students to choose an emoji that describes how they are feeling that day. This gives them an opportunity to check in with you and with themselves and to talk about anything that might be bothering them. 
So why wait? Get to know your students better today!
Read more blog posts from The English Classroom here and ensure to sign up for our English teaching resources here. We will also send blog posts direct to your email.
Written by Rebecca Sparling